What is the time line for an assessment?
Introduction

Every assessment has a timeline. it is made up of a number of periods. The periods are:

Invitation period
Turnaround period
Assessment period.

The length of the Invitation and Turnaround periods are determined by EntreBahn.
The client can explicitly select experts to review their submission; or the system can choose the advisors to do the reviews. Explicitly chosen advisors are issued personalized invitations at the start of the review period. These invitations have an Invitation period. The selected experts must accept an invitation during this period. If they do not, they are no longer eligible to do the assessment(s). If they do accept the invitation, they have a Turnaround period to complete their assessment and return it to the client.
If the client has allowed the system to select the experts, then an invitation is issued to the system-selected experts and they must accept the invitation within the Invitation period, just like experts explicitly selected clients.
If an explicitly selected expert has declined the invitation to do an assessment, they are replaced by a system-selected advisor who is also sent an invitation. Again, they have until the end of the Invitation period to accept the invitation and start their assessment. Once started, the experts must return the completed review before the end of the Assessment period.
Lastly, there is a Grace period after the Assessment period. The length of the Grace period is the same as the Turnaround period. This allows an expert to start an assessment and complete it witihin the Assessment Period+Turnaround Period.
Example 1
In this simple example, the client asked for a Chosen Expert and let the system select another Expert. Both mentors accept their invitations during the Invitation Period and wrote assessments within the Turnaround Period. They then send their assessments to the client before then end of the Review Period.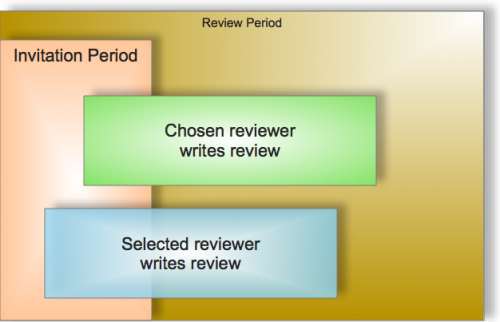 Example 2
The client wanted 3 Chosen mentors. If these 3 are not available, the client wanted the system to select replacement experts.
Invitation period 1 started when the client sent the submission for assessment.
Chosen expert 1 started to write review shortly after receiving an invitation during Invitation Period 1 and completed the review before the end of the Turnaround Period
Chosen expert 2 declined the invitation during Invitation Period 1. Selected expert 1 was then immediately sent an invitation to do an assessment. This started Invitation Period 2 during which time Selected expert 1 accepted the invitation.
Chosen expert 3 ignored the invitation. Selected expert 2 was then sent an invitation when Invitation Period 1 ends. This starts Invitation Period 3.
Selected expert 1 completes the assessment. However, they send the assessment to the client after the end of the Turnaround Period. In such a case, Selected expert 1 may be paid less than the full amount for the assessment.
Selected expert 2 accepts the invitation during Invitation Period 3 and writes an assessment and sends it back to the client before the end of the Turnaround Period is completed
All assessments must be completed within the Turnaround time. Also, no invitations will be issued unless enough time is left to complete an assessment. (The red dashed line marks the time the start of the Turnaround Period before the end of the Assessment Period.)